Disability Expo enabling choice on the GC
Kurt Fearnley and Madison de Rozario had Australians biting their nails during their twin gold medal performances in the T54 marathons at the Gold Coast Commonwealth Games recently. It was a crescendo experience for Fearnley who, now 37 years of age, first represented Australia at the 2000 Sydney Paralympics.
Being his last Games, it's not surprising that Fearnley came to the Gold Coast with an agenda on his mind. Following his silver medal-winning performance in the TS 15,000m on Tuesday night, he took the opportunity to bring to national attention the need for greater inclusion of people with disabilities.
"I've been put in this position of privilege over the past week that I would never have imagined being in. Let's have that same conversation about what is happening here at home about our education facilities, about our transport, about employment," he said in his media interview.
With a completely integrated program, Fearnley held up GC2018 as the example and template for how greater inclusion can be achieved in everyday society.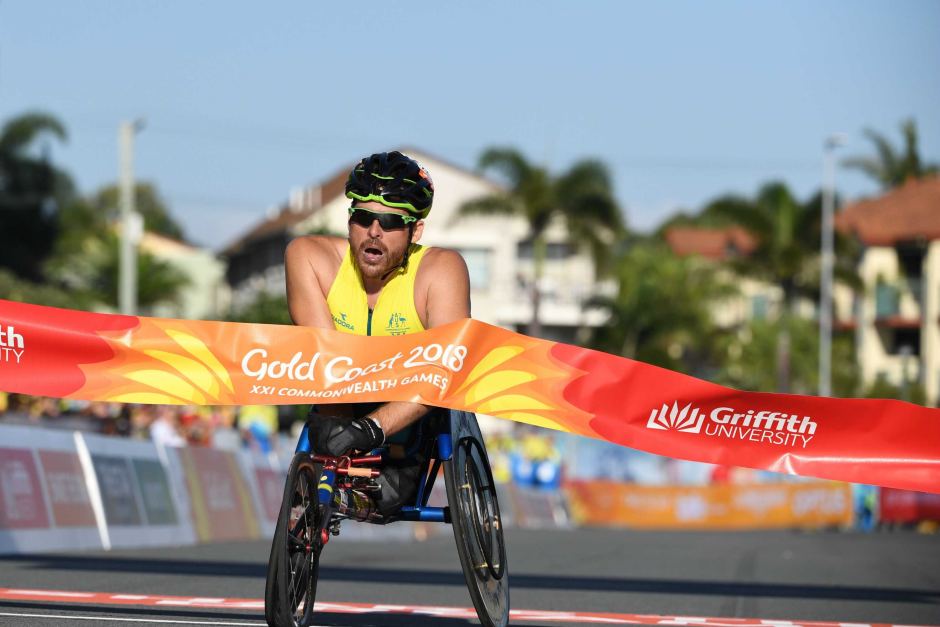 It's a fitting message for all Australians. Especially for residents of the Gold Coast, whose neighbours, families and friends living with disabilities will come under the National Disability Insurance Scheme (NDIS) from July 1 this year.
This follows the rollout in Sydney, which started in 2015, and in Melbourne, where many new regions will also roll out this year.
The broad revolutionary impact of the NDIS has been likened to the introduction of Medicare – a game-changer for everyone. Consumer-directed, NDIS provides eligible individuals with a flexible, whole-of-life support structure with which to pursue their goals and aspirations and improve their quality of life. With consumer choice, funding is attached to the individual, not the service provider. This brings greater control for the almost 30,000 residents of the Gold Coast and surrounding regions who live with disabilities, not only over which services they receive, but how and with whom they wish to engage.
With the focus on consumer choice, comes an opportunity for service providers to expand their services and refresh programs. However, one of the biggest challenges for both consumers and service providers alike is how to best communicate options and narrow down to specific choices. Navigating the range of options available can be particularly daunting for those who have been with just one service provider previously.
In a recent survey by 4community, it was found that community expos give people living with a disability, as well as their families and carers, quality face-to-face time with service providers and a range of government agencies and advocacy groups. Furthermore, they attract mainstream services and health-related suppliers that supplement NDIS participant plans and support the needs of consumers who are ineligible for the NDIS.
"It's good to have so many services in one spot – good information sharing… and a timesaver rather than looking up each service on the internet," said one attendee of the Nepean Disability Expo in Western Sydney.
A clear win-win, expos also give service providers a cost-effective way of reaching their local audience. They can discuss the unique situations of each person face to face, provide examples of how best to meet individual goals and aspirations, and give advice on how to get the most from private or government funding.
Minister for Disability Services Ray Williams said at a recent expo in Sydney: "People with a disability are our community, they deserve to live in their community. We need expos like this one to bring that to fruition."
Over the past two years, expos across Sydney have connected thousands of individuals with disability services and supports that are local to their community. Now it's the Gold Coast's turn.
Ninety percent of attendees at 4community expos indicated that they would attend again. They gave the experience a rating of 4.41 out of 5 when asked the question: "Do you feel the information provided to you at the expo will assist you with your ongoing care needs?"
"That's the ultimate test," says 4community senior advisor Kathryn Carey, who is instrumental in bringing disability-focused expos to regions around Australia. "It's about positively impacting people with a disability; to not only help them navigate what choice means, but for it to make a difference."
The Gold Coast Disability Expo will be a unique community experience and will be the Gold Coast's largest disability expo, with up to 2000 people expected to attend over the two-day event. Along with the range of services and supports, the expo will give residents access to a range of government agencies and advocacy groups as well as an opportunity to test drive the latest technology, aids and equipment designed to improve day to day living. To top the event off, centre stage will host a variety of all-ability performers, exhibitor Q&A sessions, and keynote speakers from the sector.
Gold Coast Disability Expo Highlights
Friday & Saturday 3rd – 4th August, 9am to 3pm
Opening Ceremony – 11am Friday 3rd August
NDIS Q&A Sessions on Friday and Saturday
Stage Performances by all-ability performance groups
Kids Entertainment
Over 100 exhibitors
Entry is FREE for all to attend! Register NOW!!
WHERE WILL THE EXPO BE HELD? Gold Coast Events Centre, Bundall, QLD
WHO CAN I CONTACT? If you would like to be a sponsor or exhibitor at the Gold Coast Disability Expo, call Ryan McConville on 02 9025 9310 or contact online to discuss your options.
ABOUT 4community
4community develops partnerships to increase social impact. As innovators, creatives and strategic problem solvers, 4community helps organisations find creative solutions to complex problems. We are best known for our support of social enterprises and not-for-profit organisations.
We help you increase your organisation's clarity, social impact and business sustainability.