Movement Solutions specialises in patient-centred, high quality comprehensive services to meet the needs of patients of all ages and abilities.
Leading our practice is Melissa Locke, Specialist Paediatric Physiotherapist (ACP, 2008), who is passionate about best practice and family centred care that is goal-oriented and outcome-based.
At Movement Solutions, we help you achieve your best movement by working closely with you and your family and making clinical judgements in consultation with evidence about current therapies and the best technologies.
Services
Movement Solutions offers a wide range of comprehensive classes and services.
Kids and Teen Gym
Kids and Teen Gym is unique to Movement Solutions and offers school-aged children and teenagers the opportunity to exercise and improve their fitness in a gym setting with trained physiotherapists.
Circuit classes run for 30 minutes after school with a maximum of four children or teenagers per class. The circuit classes are individually designed based on an initial assessment with specific goals in mind. Physiotherapists ensure exercises are done correctly and safely, while keeping the gym atmosphere fun, positive and motivating. Whether your child or teenager would like to improve coordination, strength, general fitness or improve a skill set for a specific sport, Movement Solutions tailors to all levels and abilities.
Co-ordinated Kids Gym
Not in school yet? Not to worry. Co-ordinated Kids Gym is for children aged two to five and is run by a physiotherapist. Co-ordinated Kids is all about having fun while improving coordination, balance, and working on age-appropriate skills before starting school.
Class sizes are kept to four and it's a great way to socialise with peers through gym play. Walk across a balance beam, jump on the trampoline, stomp some frogs or crawl through tunnels. Improve your child's skills while they're having fun!
Parents and Bub Exercise Class
Come join us (we have both mums and dads!) for postnatal exercise class designed for new parents and bubs.
Meet other parents at similar stages while taking time out for yourself and improving your core strength and stability. Bubs are included in the exercises and it's a great chance to ask a physio about developmental milestones and other bub-related questions while making new friends and getting stronger.
Yoga for Kids and Yoga for Teenagers/Adults
Whatever your ability level and prior experience with Yoga, Movement Solutions has a class for you. We offer Kids Yoga for children aged five to thirteen, as well as yoga for teenagers/adults. We also offer yoga for kids with additional needs and Family Yoga. Classes are generally run on a Saturday morning.
High Need Individual Gym Sessions
These are one-on-one gym sessions with a physiotherapist for individuals who have higher needs and require a tailored program with hands-on support or guidance.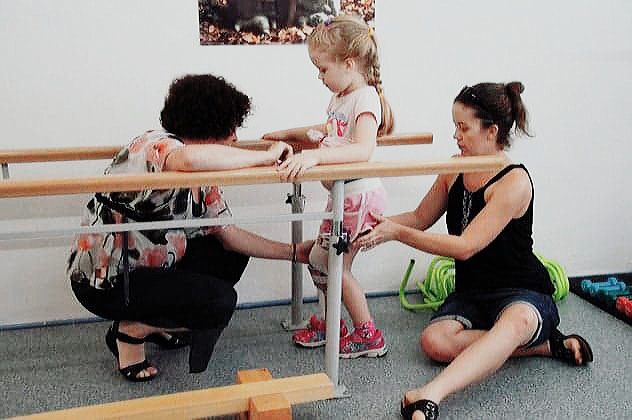 Pilates
We offer one-on-one or two-on-one Pilates sessions with a reformer and Wundabox to help teenagers and adults improve core strength and fitness.
Physiotherapy Consultations and Assessments
At Movement Solutions, we specialise in neuro-developmental, musculoskeletal, pain and functional motor disorders, as well as early intervention for children at risk of developmental delay. We see children, teenagers and adults with a wide range of conditions; from simple acute conditions to lifelong, multidisciplinary, complex cases.
We also offer out of room consultations, including home visits, school visits and Telehealth consultations.
Physiotherapy Intensive Programs
If your child is close to developing a specific skill, has had a recent setback, or lives remotely, an intensive block of physiotherapy is a great solution. Our intensive blocks typically include a two week period with six sessions: three of which are run with our Specialist Paediatric Physiotherapist Melissa Locke.
Intensive Programs include assessment, goal(s) setting, and working with our amazing team of physiotherapists. All Intensive Programs are specific to your family's goals and daily needs.
NDIS Preparation and Planning Appointments
Confused about the NDIS?  We can help you through the process at Movement Solutions.  This includes planning meetings, AT letters and support, equipment prescription, trials and applications.
Second Opinion and Medico Legal Case Reviews
As a family-centred practice, we are always evolving to meet the needs of patients in the community. If you are looking for a service not listed, call our friendly receptionists and ask.
We operate in Brisbane (07 3324 2490) and on the Gold Coast (07 5594 7014). Call us or take a look at our range of services online.